Helpful glass facts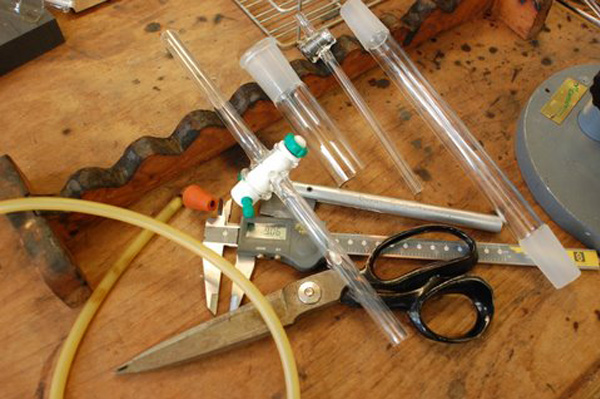 Glass Properties
Properties

Borosilicate
(Pyrex, Kimax, Duran, Simax)

Quartz

Coefficient of expansion
( x 10-7 cm/cm/°C)
32.5
8.0
Temperature limits

230°C (Normal use)
400°C ( short-term use only)

1000°C
Softening Point
821°C
1580°C

Refractive index
(at sodium D line)

1.474
1.458
How to identify if an unknown glass is borosilicate glass, without leaving the Lab!
Boroslicate glass can be readily identified by its' refractive index, 1.474
By immersing the glass in a container of a liquid of similar refractive index, the glass will disappear.
Such liquids are:

Mineral oil,
Dry benzene-methanol mixture, 84:16 (v/v) at room temperature,
Anhydrous gycerol
How to identify if an o-ring is viton.
Viton floats in perchloroethylene, if it sinks, it's not Viton.
Glass Filter Designations
| | |
| --- | --- |
| Porosity      |    Microns |
| Fine F |   4-5.5           |
| Medium M |   10-15 |
| Coarse C | 40-60 |
| Extra Coarse XC | 170-220 |
Have a suggestion to add to this page?  Love to hear it